Releasable Cable Tie
Tork standard cable ties are produced from Polyamide 6.6 material, which is known as the most durable of plastics. It has high strength and hardness thanks to its semi-crystalline structure. These structural features make Tork standard cable ties the most suitable material to use under loads due to their very high bending and tensile strength and low friction coefficient.
Black-colored Tork cable ties provide excellent protection against sunlight with UV resistance in outdoor applications with the carbon black additive inside.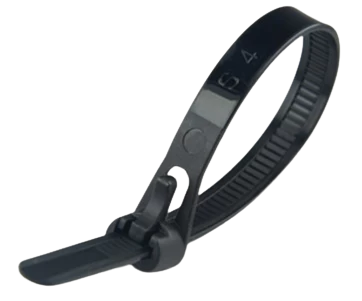 Only high quality plastic that can be recycled in nature is used
Wide variety of materials, sizes and colors
High tensile strength with low application force
Serrated inner surface to grip the application area more tightly
Edge surface slope for easy application
Easy application manually or with apparatus
Reusable Cable Tie
Releasable Cable Tie Technical Specifications
Raw material: Polyamide 6.6
Moisture Absorption: 2.7% (50% relative humidity)
Working temperature: -40 ° C + 85 ° C
Application temperature: -10 ° C + 60 ° C
Combustion degree: UL 94 class V2
Halogen free: Yes
Releasable Cable Tie Application Areas
Electricity Industry
Industrial cabling
Automotive
Energy sector
Building and construction sector
Releasable Cable Tie Certifications