Quality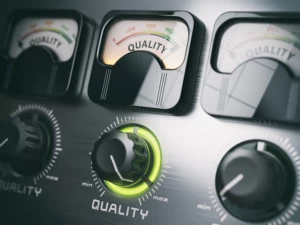 Tork Clamp has adopted the principle of being a fasteners company known nationally and internationally with its effective and continuously developing quality. As Tork Clamp company, we are aware that we are on a quality journey that is continuously improved, planned forward and controllable.
As the Tork Clamp family, we are aware that quality production is the joint effort of our employees. Therefore, continuous training based on raising and developing quality awareness in all our personnel constitutes the basis of our quality management.
As Tork Clamp, "Quality" is among our indispensable conditions to gain the trust of our customers, establish long-term partnerships and be successful in the international arena.
Thanks to our "Best Practice" and "Lessons Learned" activities, the improvements we implement and the importance of quality are shared with all our employees.
The Tork Clamp family has been registered with TS EN ISO 9001 and ISO / TS 16949 Quality System Certificates for all its activities. Our company, which is managed with "zero error" awareness with these registered documents, keeps customer satisfaction at the highest level by producing the best quality product at the most affordable prices and delivery on time.
Our quality policy
As Tork Clamp, we declare and commit to:
Produce in accordance with TS EN ISO 9001 and ISO / TS 16949 standards,
Carry out competitive quality improvement activities based on continuous improvement and ensure its continuity,
Provide products that meets customer expectations at low cost and on time,
Follow closely and commission the quality expectations and technical developments of domestic and foreign markets,
Ensure a team spirit and sense of belonging and maintaining customer trust by ensuring the participation and support of all our stakeholders,
We undertake to emphasize the importance given to the quality of our products, the protection of the environment, the efficient use of energy and the health and safety of our employees with systemic approaches.