Stainless Steel Cable Ties
Tork Stainless steel cable ties are made of 304 and 316 quality stainless steel material. The ball system used in the lock design helps the product to be applied both easily and quickly. Tork Stainless cable ties, which are resistant to high temperature, corrosion and flame, are also extremely resistant to UV rays and ideal in all outdoor areas where photovoltaic and solar energy are used. The use of AISI 316 stainless is recommended for aggressive areas that require very high corrosion resistance.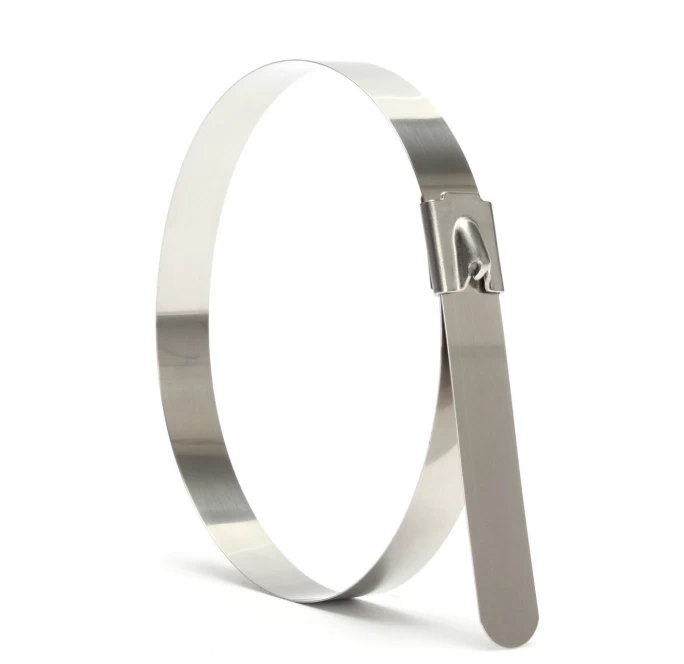 Stainless Steel Cable Ties Features
The cable ties can be used manually or with a special tool.
The ball lock system ensures less effort and time savings.
They can be used as a fire security due to their superior strength.
Damage to the electrical insulation of the cable is prevented thanks to its smooth edge structure.
Stainless Steel Cable Ties Data Sheet
Stainless Steel Cable Ties Technical Specifications
Raw material: AISI 304 or 316 stainless steel
Halogen free: Yes
Working temperature: -80 ° C + 538 ° C
Fireproof Material: Yes
Where it is resistant: Excellent resistance to acids, oils, greases, chemicals, sea water and UV rays.
Stainless Steel Cable Ties Application Areas
In electrical installations and fire installations (used as flame securuty to fix equipment that needs to be protected in case of fire)
In the shipbuilding industry, petrochemical plants, oil platforms and fire risk environments
Can be used in photovoltaic plants where high mechanical and UV resistance is required
Stainless Steel Cable Ties Box Content
| | | | | | | | |
| --- | --- | --- | --- | --- | --- | --- | --- |
| | Size | | | | | | |
| Product Code | Length (L) | Width (B) | Colour | Tighten Range | Min Tensile Strength | Quantity In a Nylon Bag | Quantity In a Carton Box |
| | mm | mm | | max g mm | Kg/f | | |
| TRK-150-46-W4 | 150 | 4.6 | METAL | 33 | 55 | 100 | 8000 |
| TRK-200-46-W4 | 200 | 4.6 | METAL | 50 | 55 | 100 | 6000 |
| TRK-250-46-W4 | 250 | 4.6 | METAL | 67 | 55 | 100 | 5000 |
| TRK-300-46-W4 | 300 | 4.6 | METAL | 75 | 55 | 100 | 5000 |
| TRK-370-46-W4 | 370 | 4.6 | METAL | 102 | 55 | 100 | 4000 |
| TRK-450-46-W4 | 450 | 4.6 | METAL | 130 | 55 | 100 | 3000 |
| TRK-520-46-W4 | 520 | 4.6 | METAL | 152 | 55 | 100 | 3000 |
| TRK-680-46-W4 | 680 | 4.6 | METAL | 203 | 55 | 100 | 2000 |
| TRK-840-46-W4 | 840 | 4.6 | METAL | 250 | 55 | 100 | 1000 |
| TRK-200-79-W4 | 200 | 7.9 | METAL | 50 | 120 | 100 | 5000 |
| TRK-300-79-W4 | 300 | 7.9 | METAL | 75 | 120 | 100 | 4000 |
| TRK-370-79-W4 | 370 | 7.9 | METAL | 102 | 120 | 100 | 3000 |
| TRK-450-79-W4 | 450 | 7.9 | METAL | 130 | 120 | 100 | 2000 |
| TRK-520-79-W4 | 520 | 7.9 | METAL | 152 | 120 | 100 | 2000 |
| TRK-680-79-W4 | 680 | 7.9 | METAL | 203 | 120 | 100 | 2000 |
| TRK-840-79-W4 | 840 | 7.9 | METAL | 250 | 120 | 100 | 1000 |
| TRK-1000-79-W4 | 1000 | 7.9 | METAL | 300 | 120 | 100 | 1000 |